What started in 1990 as a hobby of Paula Gelissen in a shed in Rijsbergen, grew under the direction of the sons Michel and Martijn into a well-known company. Frezoli Lighting, formerly known as TierlanTijn Lighting, now sells lamps all over the world. The working method has remained virtually the same throughout the years: the lamps are still designed and largely produced manually. Family business Frezoli Lighting remains faithful to Dutch roots and is located in a modern building in Rijsbergen (North Brabant, South Netherlands).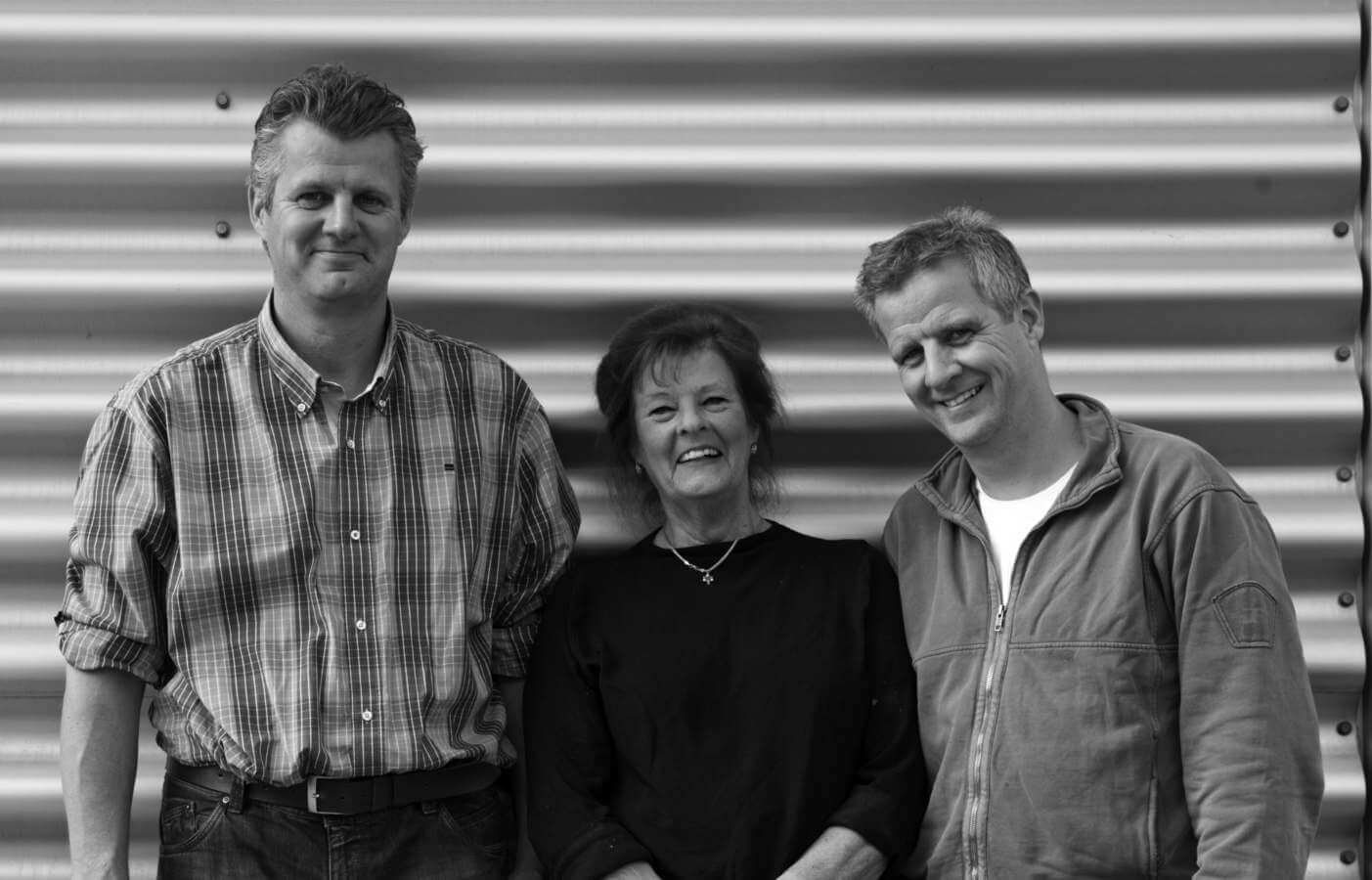 Frezoli Lighting team
The passion for real craftsmanship is shared by a dedicated team of specialists. With great care and attention to detail, the lamps are produced and finished to ultimately deliver a high-quality product.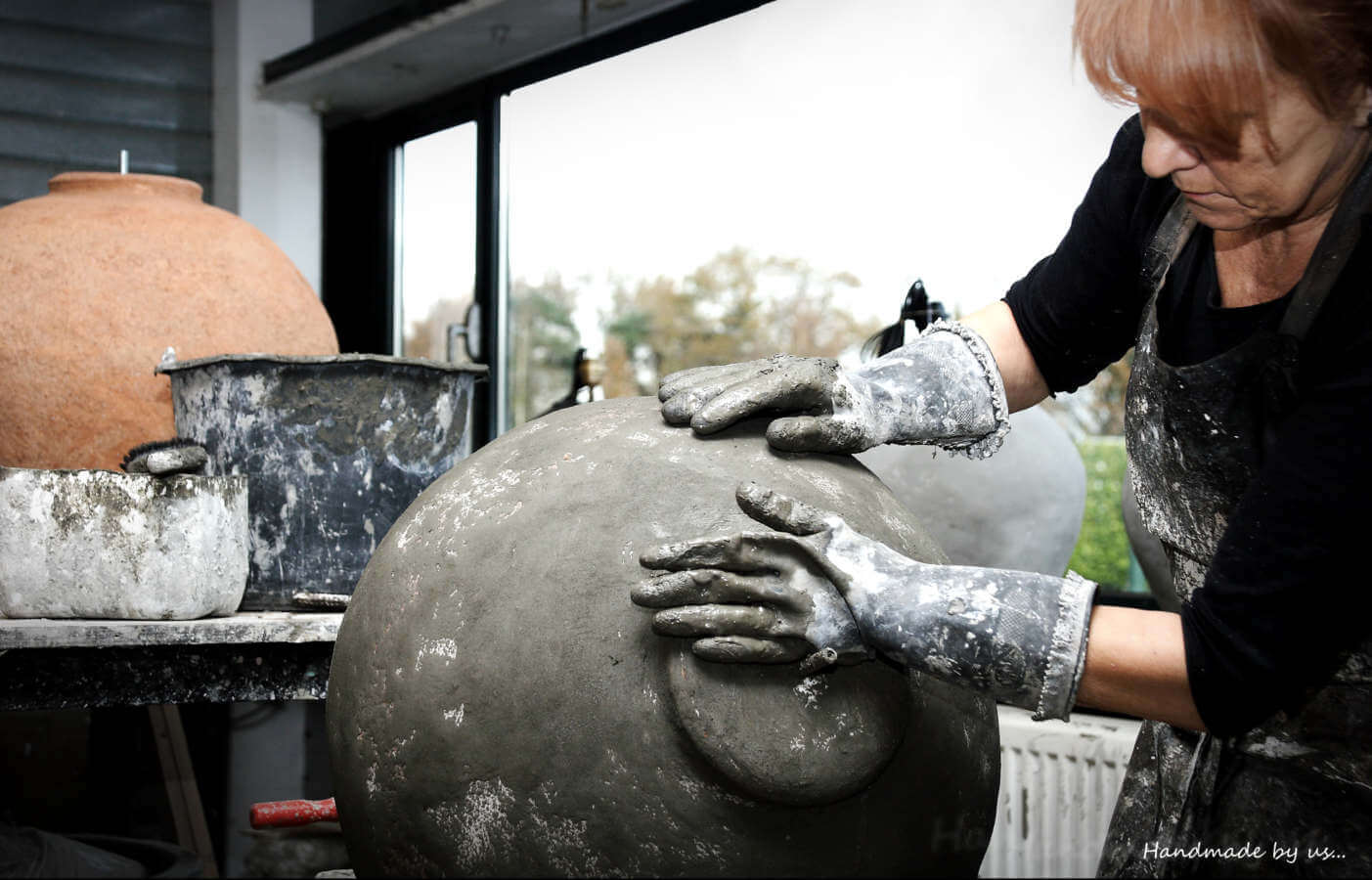 The base layers are applied for the jug lamps.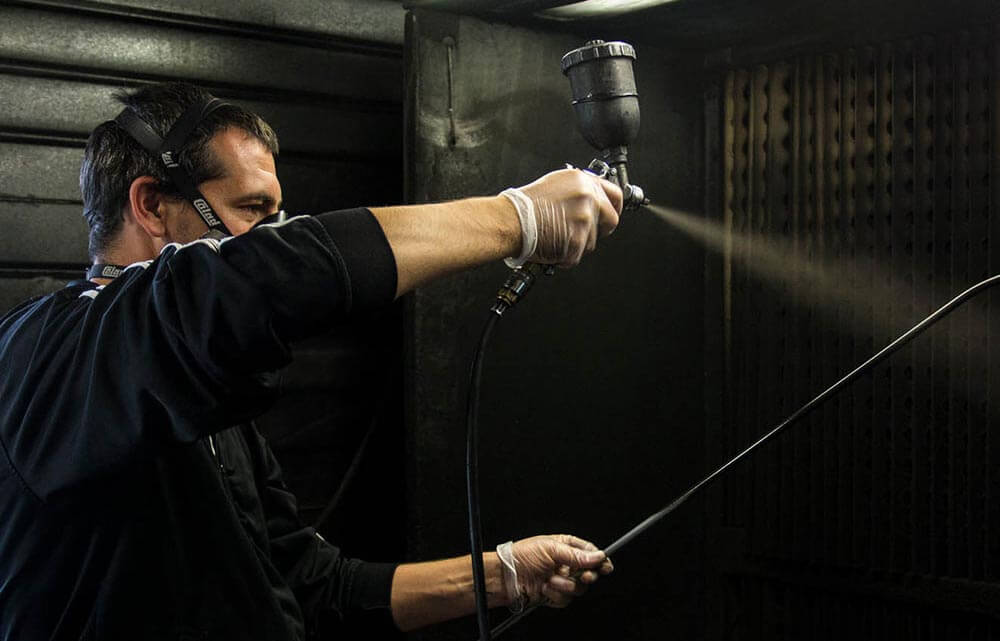 The lamps are sprayed with a black matt / dull layer of paint.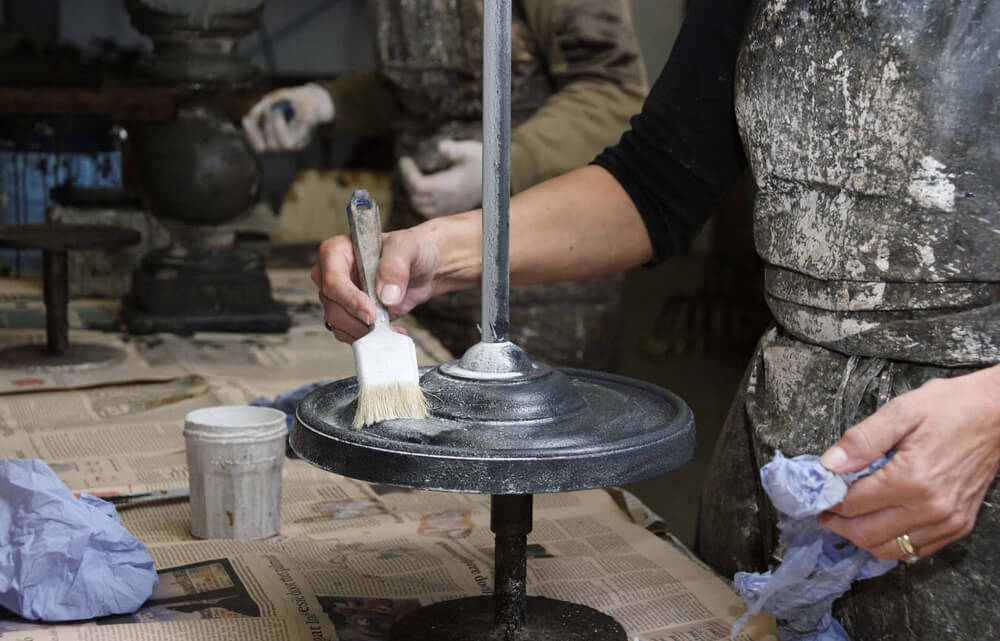 Often the lamps are coated with different end finishes, various types of patinas, creating an aged, weathered look.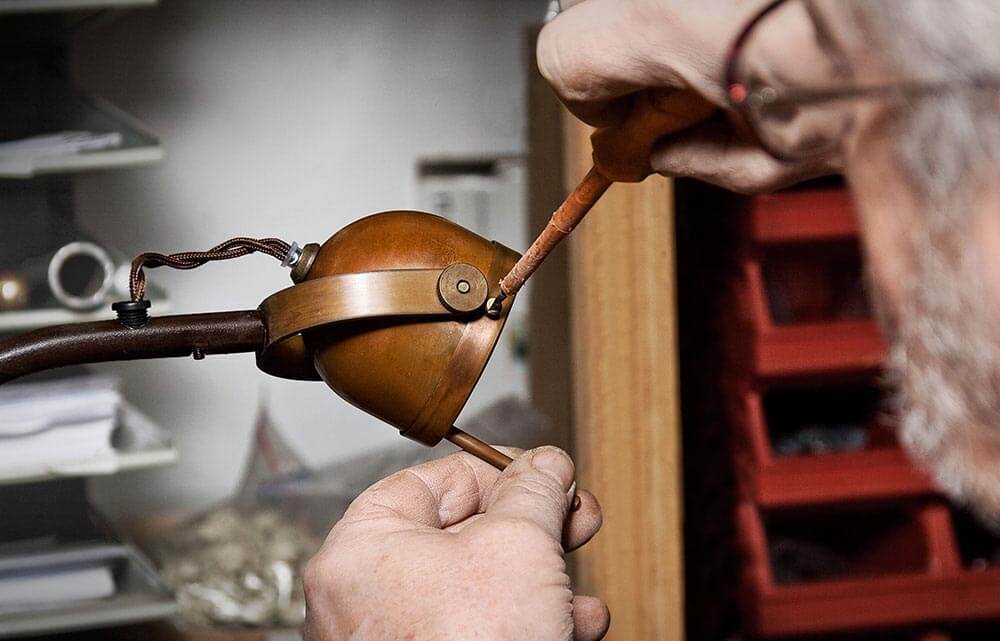 Each lamp is mounted manually in our own workshop.
Characteristics collection
The rural line of Frezoli can best be described as robust and timeless with a traditional rural look. The lamps are recognizable by the use of wood, steel and copper. The caps are made of beautiful linen fabrics.
The cast and then sand-blasted aluminum form the basis of Frezoli's industrial collection. The industrial lamps are characterized by the use of aluminum, industrial design and a rugged appearance.
Eye-catching lamps
The designers at Frezoli Lighting look beyond the functional application of a lamp. Our lamps are designed and developed as real eye-catchers. Each and every one of them is a high-quality eye-catcher that adds atmosphere to your interior. The collection is constantly being developed to meet the highest standards
The Frezoli Lighting collection now consists of more than 250 different lamps, an extensive range of interior lighting and a wide variety of outdoor lamps. For specific cases we design and develop a custom-made design. All this to realize the perfect look of the lighting that fits the project and specific wishes of our clients.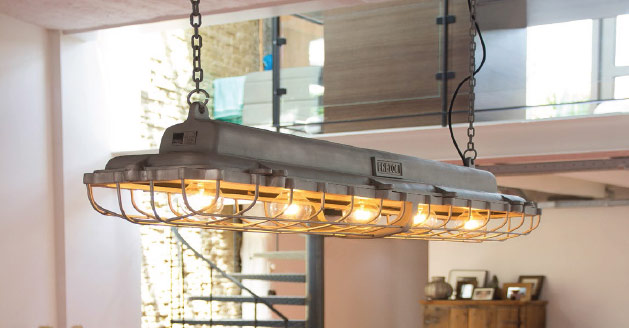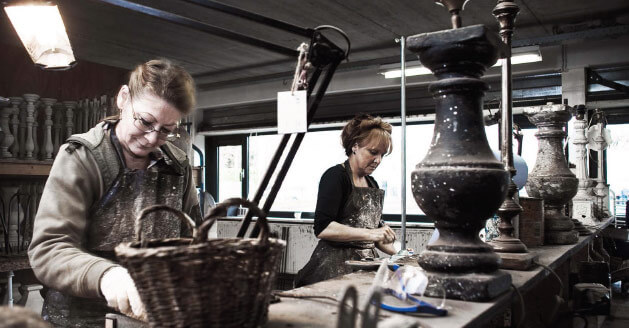 Handmade
Characteristic of the Frezoli Lighting collection is the use of natural materials and the handmade finishing of the lamps with an authentic rough and robust presentation. All lamps are hand painted or patinated according to our own unique painting techniques. A highly labor-intensive process, but very important for the recognisability and quality of the Frezoli Lighting lamps. Our lamps each have their own unique character. Finally, every lamp is extensively tested before it leaves our production facility.
Lampshades
The Frezoli Lighting collection offers a wide choice of lampshades. Our lampshades can be ordered in different sizes and shapes. In terms of material think of linen, steel or copper. With a large part of our collection of hanging lamps, there is the possibility to use different covers on the same pendant lamp. In this way you create your own unique lamp! The interior shops we have selected can advise you on the possibilities. Find a dealer in your area.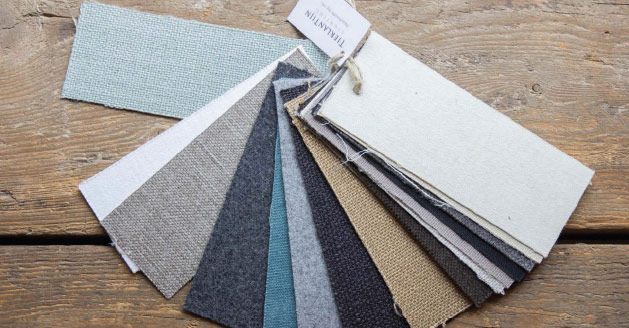 Our production process
Step 1
First the aluminum is melted in a gas oven and heated to approximately 770 degrees. After 45 minutes, the casting is removed from the sand mold to cool for several hours.
Step 2
The hand-made castings are then sawn off and smoothed to remove any imperfections, followed by various finishing operations.
Step 3
The lamps are assembled and inspected in our own workshop to ensure the highest quality of our products.
Step 4
Finally, the lamps are packed in our workshop, then delivered by our own distributor to customers all over Europe and the rest of the world.
Choose your own lamp shade
To get an impression of how a pendant lamp changes with different caps, you can change the caps in the example below by clicking on the icons of the caps.
Technological developments
Innovative, technological developments are followed closely by our team. This enables us to innovate with our collection. This has led, among other things, to the fact that a large part of our lamps is equipped with energy-efficient and dimmable LED light bulbs.
Filament LED lamps
In the past, many of our outdoor lamps with clear glass were equipped with so-called filament light bulbs. This type of lamp was known for its decorative, warm glow. In practice, this type of light bulb had a short life span and consumed a lot of energy. The new filament LED lamps give the same beautiful warm light, are durable and energy-efficient in use and dimmable.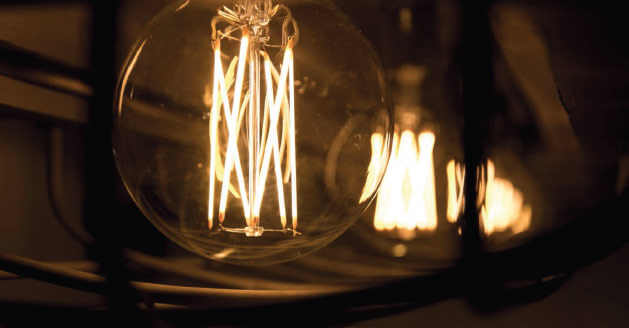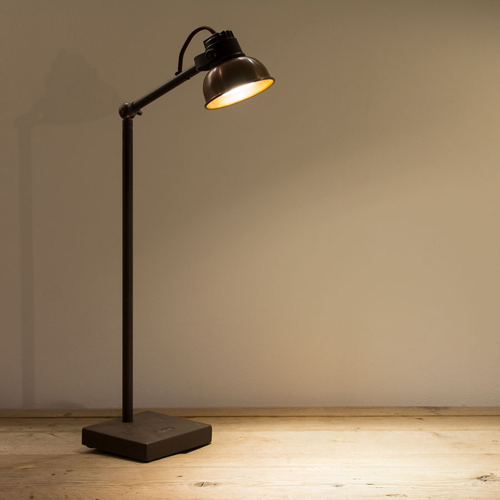 Improved LED lamps
Most of the lights in the Frezoli collection have been fitted with improved LED lamps for some time. The LED lamps are energy-efficient, emit little heat, have a longer lifespan and are better for the environment. The light color becomes warmer as it is dimmed. This allows you to create a warm and cozy atmosphere.
You can consult www.casambi.com for the possibilities, or ask your electrician.
Remotely controlled lights via tablet or mobile phone
Technology makes things easier, which is why it is also possible to switch the lights on and off using a tablet or mobile phone (possibly with a timer) and to dim the light. In addition, it is possible to operate various lamps in the same room both separately and in groups. In the lamps there is a small box that connects to the tablet or mobile phone so that these functionalities are possible.